Features

Double Knife Drive Arms
This machine is designed to use a double knife drive arms system which has an advantage of high speed, accurate, consistent and durable.

Japan AC Servo Controlling Program
Accuracy ±0.01m/m Tolerance 0.02m/m High speed and efficiency of location and shif.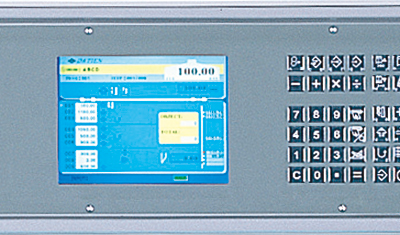 Computerized Controlled Backgauge Positioning, 10.4'' Color Lcd Monitor Survey
Backgauge positioning is controlled by a high speed micro computer. lt works together with a precise Servo motor to drive the backgauge. User friendly cutting program set up, high speed motion between positions, large memory capacity, high accuracy backgauge positioning, multi automatic function for repeating pattern cutting (label cutting); all these advantages make a Chun Tien Paper Cutter the Right solution to today`s high flexibility demands on all printing jobs.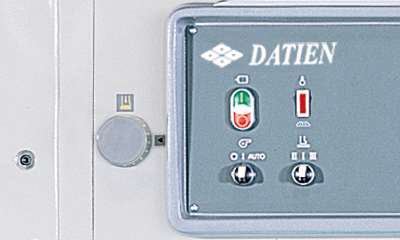 Clamp Pressure Adjustment Wheel
Put by the operathing panel, so the operator could watch the pressure level and pressure regulation easily.
Specifications

MODEL
CT-185E
CT-260E
CT-300E
mm ( inches )
mm ( inches )
mm ( inches )
A Cutting Width
1850 ( 72.8 )
2600 ( 102.4 )
3000 ( 118.1 )
B Cutting Height
165 ( 63 )
165 ( 63 )
165 ( 63 )
C Cutting Length
1850 ( 72.8 )
2600 ( 102.4 )
3000 ( 118.1 )
D Front Table Length
750 ( 29.5 )
750 ( 29.5 )
750 ( 29.5 )
E Table Height
900 ( 35.4 )
900 ( 35.4 )
900 ( 35.4 )
F Machine Width
3580 ( 140.9 )
4230 ( 166.5 )
4630 ( 182.3 )
G Machine Height
1780 ( 70 )
1780 ( 70 )
1780 ( 70 )
H Machine Length
3380 ( 133.1 )
4030 ( 158.7 )
4430 ( 174.4 )
K Machine Front Length
890 ( 35 )
890 ( 35 )
890 ( 35 )
Smallest Cut-with clamp
120 ( 4.7 )
120 ( 4.7 )
120 ( 4.7 )
without clamp
40 ( 1.6 )
40 ( 1.6 )
40 ( 1.6 )
Cutting Cycle Per Minute
36
36
36
Clamp Pressure
400 - 6000 kg ( 880 - 13200 Ib )
400 - 6000 kg ( 880 - 13200 Ib )
400 - 6000 kg ( 880 - 13200 Ib )
Net Weight
6900 kg
9500 kg
11500 kg
Power Requirement
14.75 kw ( 19.67 HP )
20.25 kw ( 27 HP )
24.5 kw ( 32.7 HP )